Kyle Lamppa is a 'master' at multi-tasking.
There's no other way to describe it.
Lamppa is the training coordinator at USW Local 6115, the ICD coordinator at Cleveland-Cliffs in Virginia, Minnesota, and a father of four who coaches his kids in basketball and softball.
Busy, right?
Well, Lamppa still found time to earn his master's degree – taking advantage of his ICD benefit. He feels like a beat-up boxer who just went 12 rounds, but he's finally finished.
"There's no way I could have done it without the ICD benefit," Lamppa said. "I couldn't justify the cost. I did the math and I'd say two-thirds was paid for through the ICD funds. I crafted my classes and loans to maximize the benefit, but again there's no way I could have justified doing this without it."
The past 30 months have been anything but easy for Lamppa. Besides working full-time and trying to stay afloat at home, he earned his Master's of Education and Training with an emphasis on AET (Adult Education Training) from Colorado State University.
"I really did it to have more tools in the tool belt," Lamppa said. "My job as training coordinator and ICD coordinator is really a job of instructional design and creating programs. I didn't know where to start, but wanted to do something relevant to do my job better and to better serve our members. I've always been interested in education and teaching and that's how the whole search started."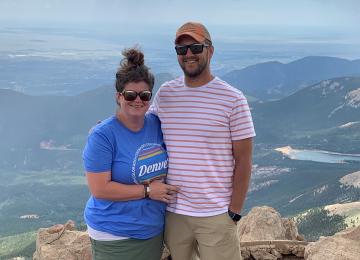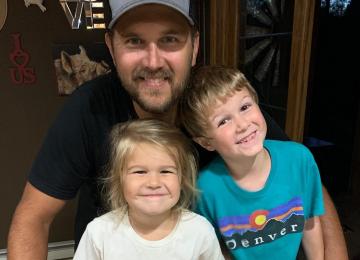 It was far from easy.
"If I stopped to think about it, I would have never done it," Lamppa said. "I just plowed through it, I guess. It was looking at the work each week and you survive that week and start it all over again.
"It's like how do you eat an elephant? One bite at a time. That was kind of my motto."
Lamppa said his familiarity with helping members utilize their ICD benefit was a huge factor in pursuing his master's degree.
"I think I saw the benefit of ICD even bigger when I became the coordinator (in 2017) and saw others going back to school and earning their degrees and certificates," Lamppa said. "I knew it was time to chase my dream, too, and take advantage of the benefit."
Lamppa, a man of many hats, said it's nice to finally hang one up. He said he owes plenty to his wife, Sarah, and four children: Sophia, 13, Lance, 12, Max, 8, and Natalie, 6, for putting up with his mood swings and not always being available.
"It was a lot of early mornings and a lot of late nights," Lamppa said. "I just kept telling myself it's time to do it and prove to myself I can do it.
"Again, this would have never been possible without the (ICD) benefit."