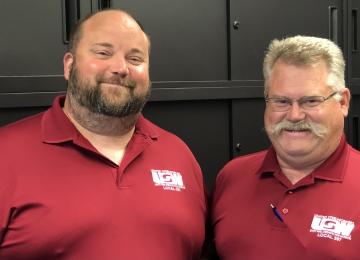 Todd Beck turned a hobby into a second career, thanks to taking advantage of his ICD benefit.
Beck, a member of USW Local 307 at Goodyear-Topeka, always loved tinkering around with recreational vehicles.
His love for RVs and his passion for learning turned into a money-making side business that he's using now and will continue when he retires.
Beck approached ICD coordinator Robert Havens about using his funds to do RV training at the National Recreational Vehicle Training Academy (NRVTA). Once he got the ball rolling – and got co-worker Matt Paulsen involved – the duo used vacation time -- not once, but twice -- to drive to Athens, Texas, for in-person classes and certification in RV fundamentals. The first week entailed 48 hours to become a Registered technician, and this past February the tandem took two weeks of vacation time (88 hours of training) to work toward the title of Certified Technician.  They plan to take additional classes to become Master Technicians.
"My wife (Angela) and I have been campers for years – we experienced the other side when we used the RV one weekend and then we took it in one October for service and the dealer had it for four months," Beck said. "That got my mind spinning. I thought with retirement coming up and I wanted something to do, I could set my own hours and make my own schedule, but this thing has just blown up."
Paulsen said both of them are putting in hours at night after their day shifts and are swamped on weekends. The business is booked up through late spring with RV work.
"We both like to trouble-shoot and utilize our skills so it's not like work at all – it's enjoyable," Paulsen said.
It's gotten so profitable – and busy – that Beck brought on his son-in-law Richard Oppitz and Beck's wife, Angela, who takes care of the books and answers the phone.
The dream has turned into a reality: Beck's Mobile RV and Repair.
"We actually did something with the ICD benefit that I believe is what it's all about – a career development course to better our lives and careers," Beck said.
"It's like all Skilled Trades. We have a shortage of it nationwide – and it's hard to find help in the maintenance field. Nobody in northeast Kansas offers this and from the people I've meet there's nothing even in the western part (of Kansas). We saw somewhat of niche and went after it with the help of ICD."
Beck's mobile unit is cost-effective because he didn't want to invest in a facility and have all the overhead. The team does everything from furnace and AC repairs/replacements, to refrigeration and roof repairs. Beck is a journeyman pipefitter with 32 years at Goodyear, while Paulsen is a journeyman electrician with 21 years at the plant, so they had a solid background when it came to the RV training.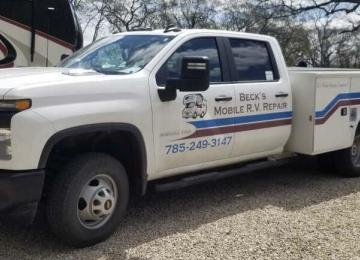 "It's a lot to learn – it's not rocket science – but you have to have some kind of mechanical background to tackle something like this," Beck explained. "The bottom line is the ICD benefit made this possible, and that's why we negotiated the benefit and that's what it's for. It's such a great program for the Steelworkers."
Beck's idea has been both profitable and time-consuming. He said they are four-to-five weeks out on jobs and he's already got the wheels spinning for another idea for the business.
"We have plans for a concierge service for campers – we would set the campers up, stock them, and deliver them to the spot," Beck said. "When families are done camping, we come pick up, take it back, and take it from there. Getting involved in this has already showed us it's definitely a growing business."
So much for taking it easy when he retires, but Beck knows he's got a lucrative business when he hangs it up at the tire plant and has a second career that he absolutely loves.
"We have a future company with little overhead," Beck said. "We found a niche and with the help of ICD we achieved our dream."