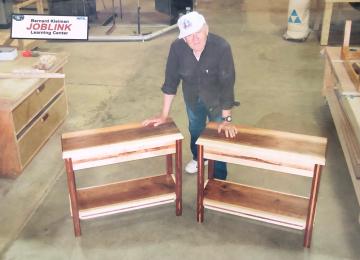 Joe Magura was a Steelworker to the core.
He loved his family and his friends. He also loved the ICD program.
"After my mom died (in 2000) those classes and those guys were everything to him," Joe's daughter, Deanna Fuehne said. "They kept him alive. I know he was so down for a while after mom passed, but one day it's like he woke up and got motivated (by the Learning Center)."
Joe Magura, a member of USW Local 1010, died of a heart attack on April 3. He was a Steelworker for 44 years. He retired as the head inspector in the 80-inch Hot Plate Mill in East Chicago, Indiana.
Joe took advantage of the ICD benefit and spent numerous hours in the woodshop with instructor Dale Meiners, and also did small engine classes at ICD's Joblink Learning Center.
"He loved the community there – that's what the union really is," Fuehne said. "His motto was to get an education and as a Steelworker he really took advantage of the benefit. He built our garage with some of the skills he learned. He built rocking chairs, cocktail tables; he had furniture that was probably worth thousands of dollars – we were even giving away some of the stuff and the pens he made at the funeral."
Fuehne, one of Magura's three children, shared one memory about her dad that she still remembers today.
"He snuck me and my (now) husband into the mill late one night to give us a tour – we knew it was wrong – but he was wearing a Vanderbilt sweatshirt (where Deanna and her husband attended) and we'd see Steelworkers with IU, Purdue, Notre Dame stuff on and they were all bragging about their kids – it took me a long time to realize we had a choice. My dad, just like a lot of those other guys, didn't. They went right into the mill after high school."
Magura was proud to be a Steelworker and always quick with a joke, too.
"He'd always say I have a full head of hair, my own teeth, and a pension – the women love me," Fuehne said.
Magura lost his wife, Ida, to cancer in 2000. They were married for 38 years. He left behind daughters Deanna, Debbie, and son, Joseph, seven grandchildren, his brother, Milan, and his beloved ICD friendships.
Magura had a pole barn at his home and used it to entertain his friends at Joblink. Deanna said the Joblink woodshop crew is coming over at some point to take all the lumber at her dad's house back to the Learning Center to help the members.
"Joe was the grumpy grandfather you always wish you had," said USW 1010 member Cesar Gutierrez. "He knew so much."
Click the link below for Joe Magura's obituary.
http://www.legacy.com/us/obituaries/nwitimes/name/joseph-magura-obituary?pid=198313423