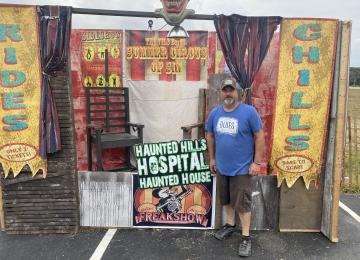 Joel Hill isn't afraid of learning. He's also not frightened by success.
But he's definitely 'creeping' it real.
Hill, a 22-year Steelworker out of USW Local 1011, has created a side business that literally started as a haunted house in his garage and has blossomed into a million-dollar success story. It's all, thanks in part, to using the ICD benefit.
The Haunted Hills Hospital runs every weekend during the entire month of October in Crown Point, Indiana at the old Ringo's Golf Center. Hill's scary climb actually started in his one-car garage before he took advantage of small business classes with his ICD benefit to become Indiana's top-rated haunted house, according to www.thescarefactor.com.
"I'm super grateful for this benefit because it was exactly what I was looking for," said Hill, a millwright. "From the first day of the small business classes I was sold – and I'm a skeptical guy. They were a huge help and still are. Every year tax laws change and with a business you have to monitor a lot of moving parts. I wouldn't be where I'm at without (instructor) Scott Williams and these classes."
Williams, who has been an instructor with the ICD program for 26 years, feels like a proud parent when he talks about Hill's dream of becoming a successful entrepreneur.
"Some people take the class for different reasons, but the reception I got from Joel, I just knew he was ready to take off," Williams said. "As a teacher you feel good because you know you've made a contribution in helping them achieve their goal."
Hill's story actually began in his garage in Portage. He was coaching youth soccer at the time and had his team help scare the neighborhood treat-or-treaters. He went from approximately 200 visitors to more than 7,000. He said he was spending between $5,000 and $6,000 on costs and knew it was getting too big and costly, especially when he was relying on only donations. He moved it a few times, including a rental facility in Lake Station, but had to change gears after a while – much like any successful business owner.
"We got to over 12,000 customers and kept growing. I knew I needed those classes just to get incorporated. Scott's classes helped me with paperwork, rules to follow, getting an attorney and accountant – now we're serving over 20,000 people a year."
Hill is so busy that he's got his entire family working for him. His son, Justin, also a union Steelworker out of USW Local 6787, and his other son, Jacob, are helping. His wife, Shannon, and daughter-in-law, Lori Hill, are also involved with the day-to-day operations that have turned into 17-hour days leading up to the big rush in October. And Hill has no plans of quitting his daytime job at Cleveland-Cliffs in East Chicago.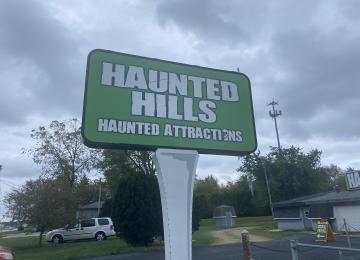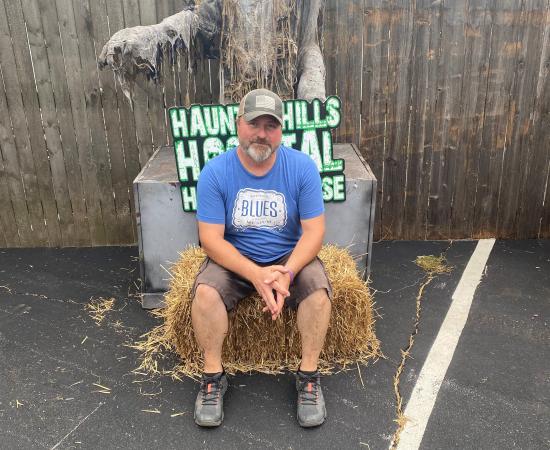 "We have gotten so big that I had six semis – 53-footers packed from front to back -- with all our stuff to move," Hill said. "We're on 7 ½ acres at the old Ringo's property. We went from $100,000 gross revenue to a million."
Hill's business has networked into making costumes for other haunted houses and customers as far away as Dubai, Ireland, and Saudi Arabia.
"Eventually our goal is to turn this place into a scream park," Hill said. "We'll have summer events like scary movies and camping to Valentine's Day and Christmas themes. We want it to be a year-round business."
Hill also has a website with information on the upcoming events at www.hauntedhillshospital.com.
Hill continues to take small business classes through ICD and admits he learns something new each time.
"A lot of stuff I didn't know and we used to do our own taxes," Hill said. "I'm constantly learning new things about running a business and I'm always on the phone with Scott picking his brain. Those classes and his knowledge have been like a reference book."
A scary good one.