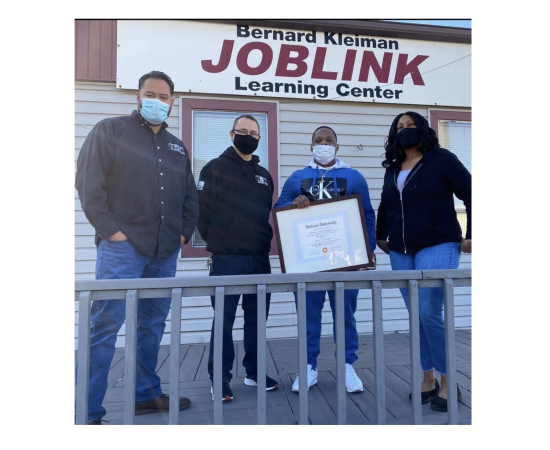 Joe Lipscomb said he heard about his Career Development benefit during his orientation at USW Local 1010 and the Joblink Learning Center in East Chicago, Indiana when he started two years ago.
His eyes lit up when he realized all that the benefit entailed, including tuition assistance.
"When they mentioned TA (tuition assistance) and all the things you could achieve with the benefit, the light bulb went off," Lipscomb said.
Lipscomb recently earned his bachelor's degree in general studies with an emphasis in math and science from Indiana University-Northwest in Gary, Indiana.
"I'd bring my backpack to work and write papers or study on my breaks," Lipscomb said. "It was definitely a mental thing, especially when you're working swing (shifts).
"I never called off, which is probably the thing I'm most proud about. I took 18 credit hours the last semester and I worked an average of 56 hours a week. It wasn't easy, but I wanted to make my parents proud."
Lipscomb, who is a stocker helper in the 80-inch hot strip at Cleveland-Cliffs in East Chicago, said he turned down plenty of overtime over the last couple of years while he was working on his degree. However, he couldn't turn down the chance to use his union benefit to further his education.
"It definitely wasn't easy, but I really enjoy a challenge," Lipscomb said. "I'm pretty prideful and once I start something I have to finish it. I'm not a quitter."
Lipscomb came over to Cleveland-Cliffs from British Petroleum in Whiting. He was an outside contractor there and was already studying business when someone told him to start taking chemistry classes because they could help his chances for advancement. When he left the job, though, he thought his education endeavor was over. But once he became a Steelworker, and learned about all the advantages of the ICD benefit, he couldn't pass up finishing his bachelor's degree without worrying about debt.
"My favorite thing about ICD was the help I got and the support they gave me in the office (at Joblink)," Lipscomb said of coordinator Marcia Taylor and staff members Karen Farrer and Fannie Bishop. "It was a great set-up to get it done and they provide so much guidance. I'm so happy this benefit is there for the union members.
"It's really a win-win situation for a Steelworker and Union member."